Jaldhaara Foundation actively pursues partnerships to bring clean water and adequate sanitation to underserved communities in India. This model of engaging in partnerships enables us to bring critical sector expertise to the field, while managing the operations seamlessly with the human developmental objectives in mind.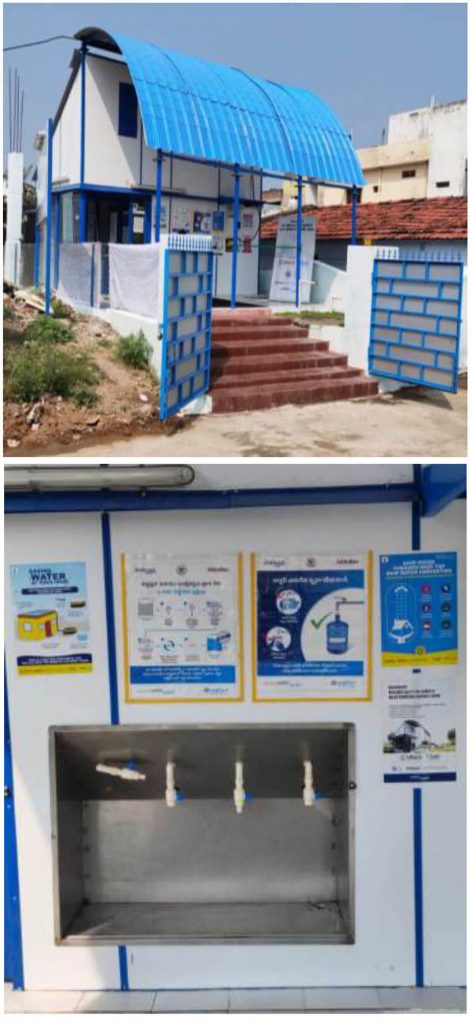 Water Health
---
WaterHealth has over 450 active decentralized water purification units WaterHealth Centers (WHCs) across seven states (Delhi, Haryana, Tamil Nadu, Andhra Pradesh, Gujarat, Telangana and Karnataka) catering to over seven (7) million underserved community members. WaterHealth also has an extensive mechanism of DSPs (Delivery Service Providers) who are young entrepreneurs from the community facilitating transportation of water from the WHC to nearby locations (schools and residences).
'Water for Schools' program attempts to leverage this by reaching out to the government schools in the vicinity of the water purification units through its existing network of DSPs. This will result in students getting safe and affordable drinking water for the entire year or as per the term stipulated by the funding partner.
WaterHealth Centers can typically serve a community of population ranging from 5,000 to 20,000 through the installation of DCWS (decentralized community water systems known as Waterhealth Centers. Jaldhaara raises the funds to procure and install the water purification plant based on a Build Operate Transfer (BOT) agreement signed with the Local Government Agency, i.e. Panchayat or Municipality, with a concession term spanning 20-25 years.
WaterHealth India, is a subsidiary of WaterHealth International , USA
Maithri Aquatech
---
Maithri Aquatech is our international innovative partner and a pioneer in the of AWG technology (Atmospheric Water Generators) Their state-of -the-art 'MEGHDOOT' solution is a nature-based renewable water technology that is sustainable and scalable to meet all demands for, of and by water. It is an environment-friendly solution with Zero Liquid Discharge and Zero Direct Carbon Emissions and can run on any power source, including renewable energy sources. The solution is one of the most cost-effective AWGs available today, capable of generating water for Rs 1.5per liter.
Maithri Aqua Tech has over 600 projects across South East Asia, the Middle East having catered to domestic consumers, top Fortune 500 companies, public institutions, schools, hospitals, underprivileged communities and many others. To date, their proven solution has generated over 100 million liters of fresh water from air while saving 200 million (est.) liters of crucial groundwater and surface water resource.